General News
A/R: Two Women Allegedly Kill Armed Robber Who Shot Their Husband In Drobonso (Exclusive)
Armed robbery is getting out of hands in the Sekyere Afram Plains district capital Drobonso. Recently road blockers attacked and killed a 64 year old woman who was returning home after visiting the hospital. The incident which occurred at the Drobonso-Kumawu road shocked Drobonso to its foundation. This was not the first time such a killing was happening in the area. In 2018, two police officers who were returning home after a night patrol met their untimely death on the same road as armed men believed to be Fulanis opened fire on the three officers.
Information received by CitizenOne has it that a suspected armed robber met his untimely death in Drobonso last night as luck eluded him after he shot a Konkomba man at a place called Efpac. The man was reportedly shot in the left shoulder. But with the pain, he arrested the armed man while shouting for help. According to the information, his two wives rushed to his rescue and in the process, one of the women striked the armed robber with a club landing him on the ground.
The women then rushed their husband to the hospital and also informed the police about the incident. When the police got to the scene, the armed man was already dead. Police recovered a locally made pistol with cartridges, a knife, and talesman on the man. His body has since being deposited at the mortuary pending further investigations.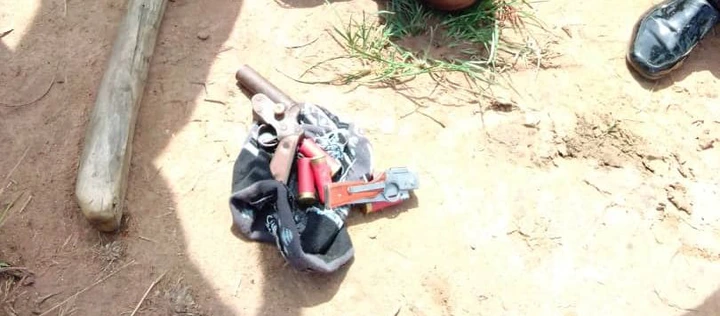 CitizenOne is closely monitoring development in the area and will update followers in due course.